Want to Listen to the New Bowers & Wilkins 700 Series?
Explore These Outstanding Speakers in Our Sound Rooms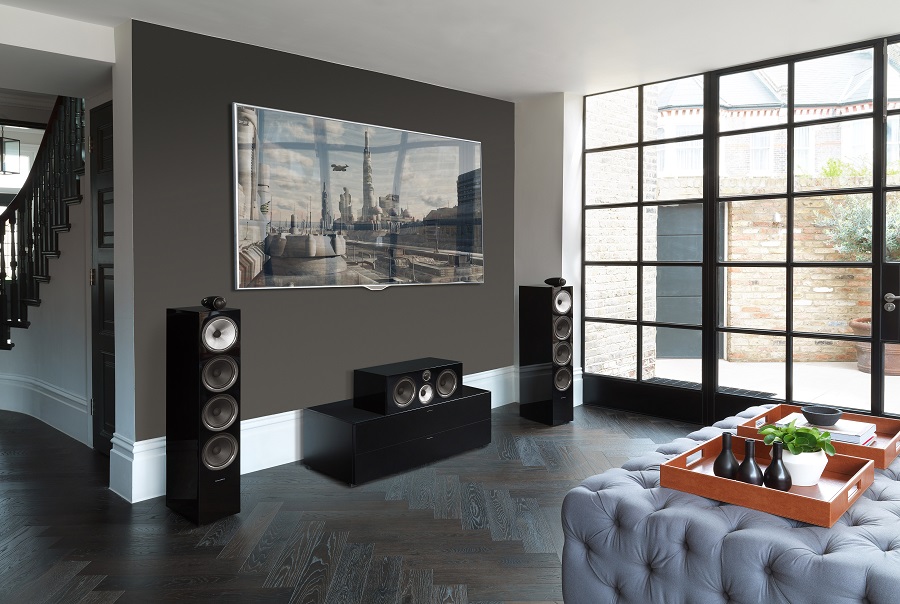 Debuted in September 2017, Bowers & Wilkins' 700 series has become one of the most popular speaker lines among audiophiles. As one of the marquee names in the high-end audio world, every new release from the British company is a big deal and the 700 Series, aimed to replace their famous CM line, was no exception.
Getting them to our Framingham showroom was a huge priority, and we're proud to boast five models from the 700 series in our shop. As with most B&W speakers, they come in a variety of finishes (gloss black, satin white, and classic rosenut veneer) and, more importantly, they feature excellent construction and high-quality components that deliver robust, pristine sound.
In this blog, you'll learn how bringing Bowers & Wilkins audio to your greater Boston area home can transform every listening experience. Review our offerings below and don't hesitate to reach out to us to schedule a demo with the speaker (or speakers) that calls out to you.
702S2
Designed as a more affordable version of Bowers & Wilkins flagship 800 Series Diamond, the 700 Series 2 loudspeakers retains much of the same technology. Each speaker includes the same classic tweeter-on-top design, improved Continuum midrange cones, and Aerofoil bass cones. As for new technology, there is now a carbon dome tweeter.
Not only do these features result in precise reproductions of your favorite audio recordings with great sonic images placed within a wide soundstage, but they're great for surround sound installations as well. In both surround sound and 2-channel systems, they're exceptional at defining distinct audio images, whether it is a solo instrument or a 100-piece orchestra!
704S2
The slender floor-standing 704S2 benefits from much of B&W's sophisticated engineering. Here the tweeter and midrange drivers are decoupled from the cabinet to avoid vibration and reduce coloration. On the bass side of things, there are twin 13-centimeter drivers combined with dimpled reflex ports to help keep the low notes tight and tuneful.
How do they compare to the 702S2s? For the most part, they offer the same type of crisp, powerful audio and stereo imaging. Especially within the midrange tones, there is excellent nuance and texture. They are not quite as "open" sounding in the upper midrange/treble area and don't have as much authority in the bottom end, but still pack a pretty good punch!
705S2
In the 700 series, the 705S2 is the top bookshelf/standmount speaker. Atop the small enclosure is a 1" tweeter and the 6.5" midrange/bass driver is in the small cabinet. Due to the more compact design, the Continuum cone serves as both a midrange and bass driver. The sound is extremely coherent with natural mid-range and the precise imaging of the larger speakers. Bass is a bit more limited, but surprisingly deep for such a small enclosure.
706S2
Next in line is the 706S2 which is the second smallest standmount speaker in the series. Despite its compact size, its powerful enough to fill large living areas. You could think of this very similar to the 705S2 but without the tweeter on top. Like its sibling, it has excellent full-range performance for its size.
707S2
Intended for smaller rooms than the 705S2 and the 706S2, it is exceptional as a near-field monitor or traditional bookshelf speaker. Yes, we do have a few people who LOVE using small speakers for their precision imaging and low cabinet diffraction/coloration and then augment the low end with a powered subwoofer. We are happy to play this combination for you!

SEE MORE: Explore the Best in Wireless Sound With BlueSound

Experience the real power of these speakers as we pair them up with high-end electronics from McIntosh in our dedicated sound rooms. For our demos, we also have a wide variety of tracks available to showcase the depth of sound offered by all of the 700 series models.

Ready to check out these speakers for yourself? Schedule an appointment to demo them at our showroom by filling out our online form or calling us at (508) 879-3556.

No video selected.